Scholarship Opportunity
The United States Department of State, TechCamp Program, and RNTC are offering scholarships to TechCamp alumni to attend the three- week course "Producing Media to Counter Radicalisation". The course will take place in February 2019 in Hilversum, Netherlands with experts in Counter Radicalisation programmes across Europe, The Middle East and Africa in attendance. The official application window is now closed.
Producing Media to Counter Radicalisation
3 Week Course - Between 2005 and 2015 alone, we have witnessed a 540% increase in terrorist attacks targeting civilians worldwide.
Political extremists and terrorists are using the internet as an instrument for recruitment and propaganda. Campaigns to recruit civilians are aimed at vulnerable youth in fragile contexts. The drivers of radicalisation are multiple: ideological, religious, socioeconomic, political and personal drivers come into play to determine the likelihood that certain youth become susceptible to radicalisation media and violent extremism. However, extremist organisations have capitalised on traditional, social and online media to spread their campaigns and win hearts and minds.
TechCamp Scholarships
Daily we see the damage caused by groups like ISIS and Al Qaeda from the Middle East and resurgent neo-Nazi movements in the West. Governments, the media, media support organisations and NGOS have failed to respond effectively to their radicalisation and recruitment before it results in terrorism and destruction. This is because they don't know how to disrupt the ideas the extremist groups depend on, following an information heavy strategy that is ineffective in reaching youth audiences.
RNTC has been implementing effective trainings across the world in Producing Media to Counter Radicalisation. The programmes have run across Europe, Asia, The Middle East, West Africa and East Africa each responding to the threats of radical groups.
A Unique Approach
Storytelling is at the heart of all RNTC's training. Stories are a powerful tool for media content aimed at achieving social change. The approach aims at not only developing skills, but also developing critical thinking.
RNTC's robust theory and practical application creates an effective learning environment for the participants. They obtain long-lasting knowledge and a solid theoretical foundation that improves their way of working. RNTC has a vibrant alumni network that participants will be encouraged to join and make use of for the sustainability of the project. This network allows for professional development as well as there are influential members of the media in the region as members.
To see the full course programme visit here.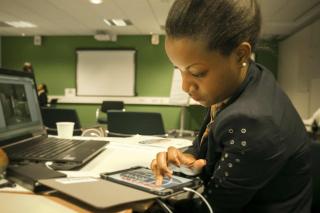 Application
The official application window is now closed.
There are many more applications than there are scholarships available. Therefore, it is important that you meet all of the RNTC criteria for this Scholarship.
Eligibility
To be eligible for the 2018 RNTC-TechCamp Alumni Scholarship you must:
Have attended a US State Department organised TechCamp
Must have a relevant and demonstrated need for the scholarship and it must apply to your field of work.
Be able to attend a course in Hilversum, The Netherlands, for three weeks, 4- 22 February 2019.
You have a minimum of three years' working experience in a media or in a campaigning organisation.
You are able to provide the original proof (or a properly certified copy) of your most recent educational qualification in secondary or higher education.
You have sufficient skills in spoken and written English as this is the working language for our courses.
How to apply
The application process requires some preparation beforehand. You will need to prepare the following:

Current curriculum vitae (CV) in PDF format. Please make sure:

It is in Englis

h
Contains a history of your employment with clearly marked dates
Indicates at least 3 years of work experience in a field relevant to the course you are applying for
Please complete the form "Work Plan" in advance and create a PDF version of this document. You will be required to upload it during the application phase

Consider your motivation for attending this course, why do you want to attend and how will this relate to your current activities. Have this prepared so you can copy/paste it into the online application form. This motivation will weigh heavily in the selection procedure. Make sure you address the following questions:

What is the issue or problem you want to address in your country?
How will this course enable you to address this issue?
How will you address this issue considering your position within your organisation?

Visit our online application page and submit your application.
Course Fees
There are two types of course fees

Partial Scholarship: the course fee is covered in the scholarship and you are responsible for the travel, housing and living expenses portion of your three-week stay in Hilversum, The Netherlands
Full Scholarship: all course fees, travel, accommodation and daily allowances are covered in the scholarship
Partial Scholarships are awarded preference over Full Scholarships in the selection of awardees. We encourage you to work with your organisation to ascertain whether there may be a training budget available to cover your expenses if you are interested in the Partial Scholarship option.
Once you have submitted your application, RNTC will inform you by email whether you are eligible or not (usually within 10 working days). You may be requested to supply additional documents during this time. This may be a copy of a valid passport. The passport needs to be still valid at least three months after the submission date of the registration form.
Awarding of Scholarships
Awardees will be notified by email and will receive information packs on the course as well as their enrollment information.
After you have completed all the course sessions and assignments, you will receive an RNTC certificate and join the ranks of our more than 5,500+ RNTC alumni worldwide.