We Love Stories + We Love Experimentation
Blog by Jonathan Groubert, senior trainer at RNTC and Janet Anderson, relations manager at RNW Media - July 12, 2016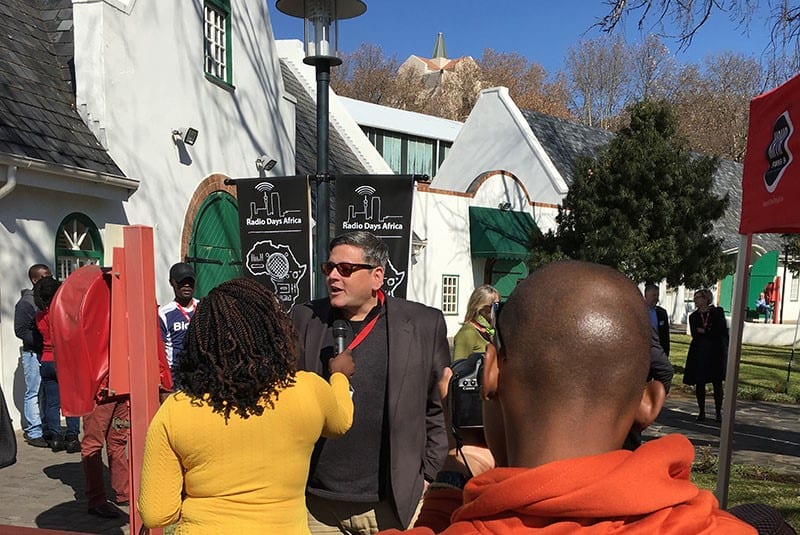 I love experimenting, especially at conferences. Janet Anderson, my colleague at RNW Media (RNTC is part of RNW), and I have just returned from the Radio Days Africa Conference, at the University of Witwatersrand, known locally as Wits. We were there to present RNW Media and RNTC's work to media professionals from all over the continent.
The venue, the Wits Club, is a distinguished old Dutch farm house constructed in 1693. As Johannesburg was founded a mere 100 years ago, we were relieved when we were told it was a fake. Not fake were the sundry 50 people waiting for Janet to talk about challenges and opportunities of working in RNW Media's projects in Burundiand Libya.
Janet's presentation was first, so I'll hand off to her.
Experimentation
At RNW Media and RNTC we encourage broadcasters to think beyond the studio and make use of different channels like radio, sms, internet and social media. So my message was that if you don't make use of all of the places where your audience is hanging out, if you don't engage more broadly than a radio phone in, your show is never likely to get the impact it deserves.
Libya Dreaming
One of the radio shows that got hundreds of young people engaging with Huna Libya, one of RNW Media's projects, was about young people's dreams. Huna's listeners in Libya – not only Tripoli, but as well from other parts of the country with very different experiences and problems – themselves decided how to push the discussion so that it reflected their aspirations. Libya suffers from youth unemployment of at least fifty percent. Since the civil war the country has been divided under different governments and militias. Young people have no space to express themselves. So via Facebook, our website and directly into the radio show via sms, young people gave full range to their imagination and personal longings.  
WhatsApp replaces radio in Burundi
As for our project in Burundi, where radio stations were destroyed as part of the political violence of last year, the possibility of using WhatsApp like a radio – meaning sharing audio via small groups – elicited lots of excitement and lots of questions. It offers new opportunities to radio professionals: they can apply their audio-making skills by using WhatsApp to 'broadcast'.
RNW Media is collaborating with a range of partners, experimenting and playing – just as we try to encourage all participants at RNTC courses to experiment themselves.
…so now back to Jonathan.
Tell Me a Story
They'd mislabelled my Thursday afternoon session with the above title. I guess they liked it better than my original "Storytelling the News". It was a near capacity crowd. Presumably storytelling had more allure than the many talks on radio play out systems and listener statistical analyses.
I set myself a goal. "Can I teach you our RNTC method of storytelling in 40 minutes or less?" I began. "The answer to this question will be the climax, which must always answer the central question." You see what I did there? I gave them two parts of our theory already.
There followed a comparison of a bog standard, dry, and frankly boring, news story about  Gambian Pouch Rats being trained to replace humans at identifying landmines in Cambodia. I then compared this with another version about the same rats, doing the same thing, but told in story form. This time, we became well-acquainted with a rat named Mandy who was striving to pass her landmine finding final exam. The information is exactly the same, but in the story version, we actually cared about Mandy. Could she pass the test and save human lives? Is a future of unlimited bananas guaranteed? Spoiler alert: she did it.
Finally, I shared two Brexit stories: one was 5 w's and an h. The other was a tale of a young British woman following the Brexit results, in a bar in Amsterdam. It ends with her afraid she no longer has a home, her Union Jack at half-mast in a puddle of beer.
I moved around the room, handing the mic to participants and quizzing them on steps of rising tension and resolutions. In the end, the consensus was that in these 40 minutes, I'd succeeded in teaching everyone the gist of RNTC's storytelling method. Amandla!
We Love Stories + We Love Experimentation at RNTC
All RNTC courses teach storytelling. It's our theoretical cornerstone and sets us apart from other media trainers. Many media schools can teach you how to hold a mic and point a camera.  Our courses teach you how to get audiences engaged and to persuade them your news story or media campaign matters. We encourage participants to experiment and try these new techniques. The Johannesburg conference brought us one step closer to sharing our powerful methodology with media professionals worldwide.