Honours Programme
Advocacy Journalism in a Digital World Honours Programme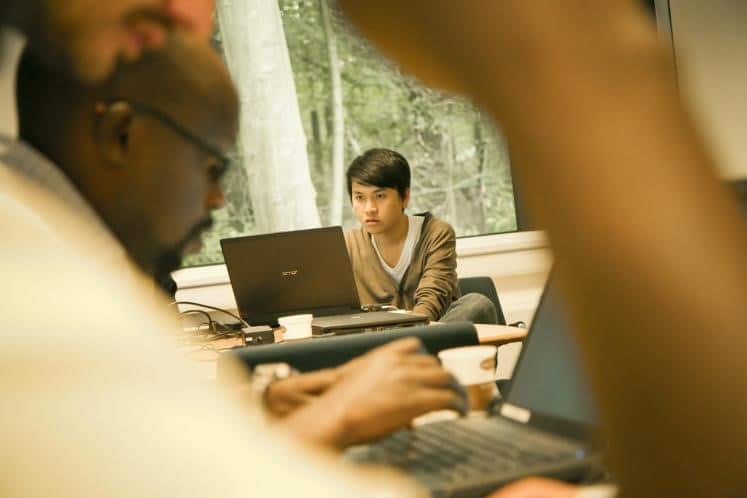 Honours Programme
In short
Location: Hilversum, Netherlands.
NLQF certified  Level 6 bachelorate
Introduction
New technologies and empowered audiences in the modern age have forced media professionals to critically review journalism strongholds such as 'objectivity' and 'media bias' and to redefine what is 'newsworthy' and 'relevant'.

The role of journalists in new societies is a topic of on-going debate among media professionals and researchers. The digital age has caused a wave of reform in societies and has forced media professionals to reposition and redefine their strategies. Digitalization; moreover the development of social media, has greatly improved the opportunities for citizens to actively and individually participate in society and contribute to democratization.

The Advocacy Journalism Programme specifically trains journalists to take up their professional role in bringing about social change and democratisation. The programme's focus on community and social media both facilitates and strengthens young people to 'engage in conversations about the topics that are most important to them'. At RNTC, we use outcome-based education models and experiential learning to help young media professionals connect with their audience, in specific communities, using persuasive storytelling techniques.

Our Advocacy Journalism Honours Programme fits well into the overall vision of RNTC and, its mother organisation, RNW Media. We are devoted to using innovative approaches towards digital media to bring about social change.
General outline
The Advocacy Journalism Programme is designed along the lines of digital communication, journalism and making use of 21st century communication skills. It offers a wide variety of modules, with a strong emphasis on the participatory role of the media.

The programme is designed as a minor programme on honours (Bachelor+) level (30 EC) and can also be offered as a semester programme to any media related Bachelor's programme.

All modules are offered as unique courses to participants who wish to compose their own package of modules, outside the format of a minor or honours programme.

The programme consists of six modules covering the essential building blocks of advocacy journalism, 21st century journalism skills, digital communication and media entrepreneurship. The minor programme leads to a final assessment in a hyper-local newsroom, where all learning outcomes of the modules are represented in the productions.
Target group
Media, communication and journalism professionals
Duration
Six months | Six Modules
Certification
Successful completion of each of the 5 EC modules, as a stand-alone course, is rewarded with a RNTC training certificate.

Successful completion of the 30 EC minor programme leads to a RNTC minor in advocacy journalism certificate on honours level and – in the case of partaking in this minor as a regular bachelor student – as study credits to substitute part of your bachelor programme. The minor programme is offered on NLQF 6 level, comparable with bachelor, and internationally framed as Dublin descriptor level 6.
Module representation
The programme consists of six modules. The modules represent the roles of advocacy journalists in the present digital age.

1- The Watchdog: advocacy journalism, conflict reporting, peace journalism, constructive journalism
This introductory course emphasises on the key role of a journalist as the 'watchdog' of the society. The participants will learn about their essential role of as an advocate and how it defines their relationship with their society. They get to know related fields such as conflict, peace, and constructive/inclusive journalism and will learn how to take a professional stance in relation to media and society.

2- The Storyteller: narrative journalism, trans-media productions (digital stories)
In advocacy Journalism, storytelling is an essential element. The participants will learn about the elements of a strong story and ways to write convincing texts. They learn to use different narrative techniques and understand how stories are constructed on different platforms. They will get to know how elements and techniques across different modes of communication, such as film and drama, can help strengthen the message of a story.

3- The Researcher: investigative journalism, data journalism, data verification/fact checking, data analytics
Every journalist is a researcher. In this module the participants get to know the numerous possibilities of online research, different research strategies, digital search tools, effective collection of data and verification methods.

4- The Digital Creative: multimedia journalism, mobile reporting, data visualization, social media platforms
In this module the participants learn how to analyse the digital media landscape and target audience, pin down trends, and make a social media strategy. Practicing creativity and innovative skills will enable the participants to effectively use future social media and new platforms.
5- The Entrepreneur: freelance, media management and organisation, project management, multidisciplinary teamwork, crowd-funding, social responsibility
The 21st century journalist is an entrepreneur. Entrepreneurial skills are a decisive factor in the success of a production/project. This goes for professionals working inside media organisations as well as freelancers working on assignments. In this module the participants learn how to analyse an organisation and define strategies for personal and organisational success. They also learn how to set up their own media projects, acquire funding and manage budgets.

6- The Civil Communicator: participants can choose between two different modules depending on their background and career ambitions:
Journalism-variant: participatory media, citizen participation, crowdsourcing, media literacy, inclusive journalism, local reporting

Communications-variant: campaigning, video-blogs, socio-docus, testimony-based stories, screenwriting

Understanding and communicating important societal issues and supporting a process of democratisation and change is the main learning outcome of this module. We offer participants a choice to achieve these learning outcomes within their own field.
The journalistic approach stands in the tradition of civic journalism and focuses on participatory media and inclusive reporting.
The communications approach includes theory and training in campaigning, screenwriting and the use of both classic and new information channels.
Background
New technologies and empowered audiences in the modern age have forced media professionals to critically review journalism strongholds such as 'objectivity' and 'media bias' and to redefine what is 'newsworthy' and 'relevant'.

The role of journalists in new societies is a topic of on-going debate among media professionals and researchers. The digital age has caused a wave of reform in societies and has forced media professionals to reposition and redefine their strategies. Digitalization; moreover the development of social media, has greatly improved the opportunities for citizens to actively and individually participate in society and contribute to democratization.

The recent developments have shed new light on an old, and much debated journalism genre: advocacy journalism. A general definition describes advocacy journalism as 'journalism that promotes a cause or expresses a subjective viewpoint'. However advocacy journalism should not be seen as a covert way to legitimize biased coverage, but rather as a means to improve public life and contributing to the participatory forms of democracy as opposed to procedural and constitutional liberalism' (Alexander et al. 2016, p 253).

Positioning advocacy journalism in the 'democratic participatory role of media' distinguishes it from persuasive forms of communication such as propaganda and activism. The participation between the public sphere and media is aimed at enforcing democracy, as is the more classic role of journalism as watchdog of society, in a libertarian approach to media (Siebert et al, 1956).

"We might have passed a point where we can talk about objectivity in journalism with a straight face. Objectivity was always a shortcut. It was a useful little shortcut of a concept to say you should be fair, you should be honest, you should have integrity, you should tell people accurately and responsibly what you think are the important things about what you saw or researched. If what we're doing is advocating for the public, (then) that's our job." – Patricia Aufderheide, Founder of the Center for Media & Social Impact
Dutch Qualification Framework (NLQF)
The Dutch qualifications framework (NLQF) is a framework for the classification of all possible qualifications in the Netherlands. From basic education to a PhD doctorate. NLQF makes it possible to compare formally regulated qualifications to non-formal qualifications (often provided by private institutions).

The framework consists of eight levels and one entry level. Each of the 8 levels is defined by a set of descriptors indicating the learning outcomes relevant to qualifications at that level. The levels are based on descriptions of what someone knows and is able to do after completion of a learning process, regardless of where and, to an extent, in what timeframe this took place. These descriptions of the levels of knowledge, skills, autonomy and responsibility are referred to as learning outcomes.

RNTC is an NLQF certified training institute and certified to offer the NLQF 6 qualification for its Honours programme in Advocacy Journalism.

For more information on the NLQF